INTRODUCING:
Lois' new 2.0 YOU! Upgrading Your Own Operating System Program
Ready for your group or team to make a reset? Actually get EXCITED about change?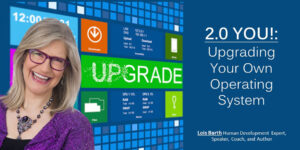 See Lois in Action – Corporate
Corporate
Women In Leadership / Entrepreneurial
"People learn best in an environment that is upbeat, creative, and fun."
Lois' combined 20+ years experience as a motivational speaker, coach, actress, author, storyteller, comedienne, health practitioner, life long learner, and passionate advocate of human potential, provides powerful and practical content delivered in a playful way.
"Could your group use to feel less stressed? More motivated? Engaged? Productive? Resilient? Work together in a cohesive powerful way?
"Do you crave to support the rockstar women in your organization that are not being recognized as they should be?"
"Do you hunger to be the leader you know you can be, but still feel stopped?
"Ready to make some major changes in your life, but not sure how to begin?
"Would you like to take better care of yourself, set boundaries, and no longer be drained by the energy vampires in your life?"
"Ready to speak up, share your ideas, take actions, be courageous, and give yourself permission to be your full gorgeous one-of-a-kind self, and watch your life blow open in ways you never dreamed possible?
Of course you do!
Why wouldn't you!
"Life is Precious!"
"Life is Short!"
It's your time for you and your group to have the Courage to SPARKLE!
The groups she speaks to and the individuals she coaches come away more empowered with specific tools that champion them to address their negative self-talk, take more courageous actions, enhance their communication skills, and create a life that lights them up!
Let Lois champion you in doing just that!
Raves from clients:
"Lois is a Powerhouse! 350 women came away energized, inspired and full of great ideas! They talked about it for weeks afterwards."
-Aliana Apodaca, SW Women's Leadership Conference, TX
Lois creates a powerful and playful experience (virtual and in-person) that enhances confidence, competence and action!
Lois was our opening keynote speaker at our Women In Trucking conference this year. The audience of nearly 800 (mostly) female audience who work in the very male dominated world of trucking loved her and her message! She shared her experiences in a way that made the message more personal. I would recommend Lois for anyone looking for a speaker who encourages, supports, empowers, and entertains the women leaders in their audience. You can't miss the mark with Lois and her Courage to Sparkle!"
-Ellen Voie, CEO of Women In Trucking
When women step into the full breadth of their gifts, talents, and passions the ripple effect on leadership, health and well-being, business, and social causes on a local, national and global level thrive exponentially. Happy Women…Happy Planet!
"I worked weekly with Lois for three months, and it is not an exaggeration to say it was life challenging."
-Marcia Zeller Harding, Ass. Director at Cornell University ILR School
"The line between personal and professional is invisible. What shows up in one's personal life impacts one's professional life and visa versa."
"I would recommend Ms. Barth to other employers that have employee issues that span beyond the workplace but also include whole-person issues that perhaps an executive or business coach is less suited to handle."
-Jennifer Duncan, VP HR for Arthur J. Gallagher & Co.
I call my consulting work "behavioral wellness meets professional development." Coming from both a wellness and professional development background, I see the two as inextricably connected. One's sense of vitality and wellness greatly impact their ability to be an engaged employee and visa versa. I work with small teams within a department of a large corporation or a small boutique company to help foster more engaged and effective leaders.
SPARKLE